YWCA Union County Board of Directors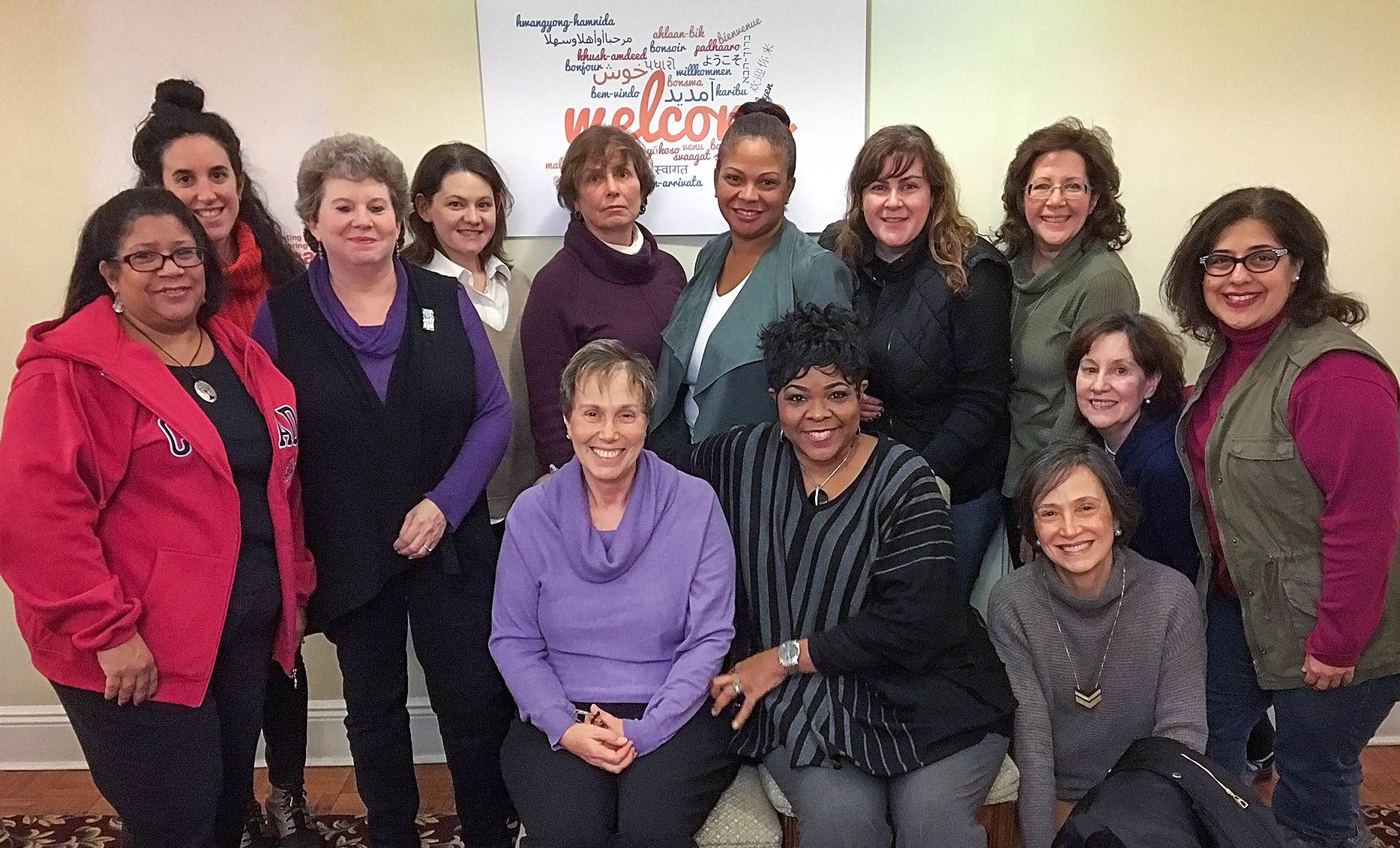 Delaine Bailey, President
Delaine Bailey is Senior Manager for Delivery Global IT for Wyndham Worldwide, one of the world's largest hospitality companies across six continents. Prior to joining Wyndham Worldwide in 2005, Delaine served as Project Manager for Sanofi-Aventis. Delaine attended Spelman College and is a graduate from Kean University where she earned a Bachelor degree in Mathematical Science. She currently serves as Board President for the YWCA Union County, and is also a certified Project Management Professional and Lean Six Sigma Green Belt.
Patricia Granda, Vice-President
Patricia Granda is the Global Head of HR, Global Technology (R&D, Product Safety, Regulatory & Quality) for Colgate-Palmolive Company, a worldwide consumer products company focused on the production, distribution and provision of household, health care and personal care products. Prior to joining Colgate-Palmolive in 2004, Patricia served as Recruitment Specialist for the Federal Reserve Bank of New York. She is an active volunteer in her community, not only serving on the YWCA Union County Board of Director, but began her own service organization, Food for Thought, providing food security for those in need.
Karen Pfeifer-Jones, Secretary
Karen Pfeifer-Jones is a Learning Facilitator and Leadership Development Consultant. She has over 25 years of high-performance, frontline leadership experience. Early in her career, Karen facilitated major change initiatives supporting deregulation, and mergers and acquisitions that impacted the energy industry around the country. Today, Karen facilitates high-impact change through leadership coaching and targeted development programs.
Karen coaches middle- and senior-management clients to lead with agility and build leadership core competencies for today's complex and highly competitive environment. Through these partnerships, clients learn to effectively lead change; navigate organizational dynamics; build and sustain engaged teams; and enhance their impact through honing skills in communication, strategic thinking, innovation and execution.
Karen facilitates learning by teaching MBA leadership, organizational behavior, communication and creativity & innovation courses. Her leadership and passion for developing others carries over to her volunteer work as a Board of Director, Strategy Development and Human Resource Committee lead for the YWCA Union County. The YWCA is an organization whose mission is to provide resources and personal development that empowers women and their families to become independent and free of domestic violence.
Celia Intili, Treasurer
Celia is a retired data processing professional who is committed to furthering the mission of the YWCA Union County. As Board Treasurer, she serves as Chair of the Finance Committee and is a supporter of the initiative to engage young professionals in the organization.
Celia is an active volunteer with Mother Seton High School in Clark, the West Bergen Mental Health Clinic, and Toni's Kitchen in Montclair. She is an avid practitioner of yoga, and enjoys auditing university courses, nature walks, and NJSO concerts.
Members:
Margot Baruch
Margot Baruch is the Associate Director of Leadership and Adjunct Professor at Douglass Residential College, Rutgers, the State University of New Jersey. She has over a decade of experience managing programs promoting gender equality and social justice in the United States and globally. She currently serves on the Board of the YWCA Union County, focusing on eliminating racism, empowering of women, and proving services to survivors of domestic violence. Her past experience includes work with the Center for Women's Global Leadership (CWGL) managing the economic and social rights portfolio and advocating for women's rights at United Nations using international human rights mechanisms. Additionally, Margot has served with the Peace Corps in El Salvador, volunteered as a Confidential Sexual Assault Advocate, and consulted with the Anti-Poverty Network of New Jersey. Margot earned her Bachelor of Arts in Women's and Gender Studies and Spanish from Douglass College and her Masters of Science in Global Affairs from Rutgers University – Newark. She is the recipient of the National Council for Research on Women 2011 American Express Fellowship Building the Next Generation of Non-Profit Women Leaders and the Rutgers Office of Violence Prevention and Victim Assistance 2015 Above and Beyond Award.
Virginia (Ginny) Biggins
Virginia, or "Ginny," serves as Manager for Internal Communications and Corporate Social Responsibility at PSEG. In this position, Ginny oversees execution of strategic plans, print and electronic media, intranet, and large-scale executive meetings and events. Her focus areas include Human Resources, diversity and inclusion, citizenship and culture, ethics and integrity/law, IT, and other services-related areas. In her position, Ginny also manages the PSEG foundation's external communications and events, and oversees social media staff. Ginny is active in her community, volunteering for the Kelly Cares Foundation and the St Genevieve Catholic Church.
Jeseñia Brown
Jeseñia is a key professional within the Lowenstein Center for the Public Interest at Lowenstein Sandler. Jeseñia serves as the administrative manager for the firm's pro bono practice overseeing the Center's daily operations. In her role, Jeseñia evaluates new projects and initiatives, works with nonprofits to coordinate trainings for volunteers, serves as a specialist in state guidelines on pro bono practice, and coordinates volunteer recognition. Jeseñia also is responsible for Center marketing, publications, and coordinating social media. In addition Jeseñia oversees the firm's community service activities including non-skills based service initiatives, donation drives, and charitable fundraising initiatives. Prior to joining the firm, Jeseñia was an agency manager for UCP of Central Florida, where she managed the administrative offices and supported the CEO of a seven-office nonprofit. Prior to that position, she served as a program coordinator for the Philanthropy & Nonprofit Leadership Center at Rollins College, coordinating continuing education and organizational development courses for the nonprofit community. Jesenia is a graduate of Rollins College, and received a Master's Degree in Management from Thomas Edison State College.
Melody Brown
Melody Brown has more 25 years of experience in the fields of human resources, customer care and corporate social responsibility for Verizon Communications, a Fortune 50 telecommunications company. During that time, Brown worked on numerous mergers and acquisitions, managed multi-million dollar programmatic budgets, and spearheaded award-winning corporate responsibility initiatives. She currently serves as the director of human resources for NPower. Melody ran her own consulting firm, providing strategic analysis and programmatic execution for the Soledad O'Brian & Brad Raymond Starfish Foundation. Brown is invested in her community, currently serving on the national board of A Call to Men, formerly on the board of trustees for the Morris County Urban League, and the advisory board of the Center on Violence Against Women and Children at Rutgers University. Brown has a bachelor's degree in political science from Adelphi University and a master's degree from Fairleigh Dickinson University in organizational leadership. She is married to Dr. Charles Brown, and has three children and one grandchild.
Winona Cleveland
Winona Cleveland has served as a Senior Program Development Specialist for the City of Plainfield for the past 4 years. Previously, she previously for the County of Passaic as a Program Manager for the Department of Human Services for 16 years. Winona graduated with a degree in Business Administration from Voorhees College, an historical Black College (HBCU) in South Carolina.
Tina Earley
Tina Earley is the manager of government and community affairs for Elizabethtown Gas, and is responsible for leading all aspects of community involvement for the natural gas utility that meets the needs of more than 286,000 customers in 84 communities across New Jersey.
Before joining Elizabethtown Gas in 2015, Earley held several positions in public service. She served as an assistant counsel for the New Jersey Senate Democratic Office and as a legislative aide for State Senate President Steve Sweeney. She also interned for U.S. Senator Robert Menendez in Washington D.C. during his time in the House of Representatives. Earley strives to make a difference in the community and regularly volunteers her time at a number of organizations. She serves on the boards of the Union County Workforce Development Board, the YWCA Union County, the Union County College Foundation and the United Way of Greater Union County. Earley holds an undergraduate degree in politics from The Catholic University of America and received her law degree from Widener University School of Law. She resides in Cranford.
Natalie Guy
Natalie Guy is the Operations Director for Newark Public Schools. Prior to this position, Natalie was a Consultant and Strategist for Natalie Guy Consulting, LLC, focusing on operations management initiatives for small businesses and non-profit organizations with a focus on human resource management, recruiting, contract negotiations and fiscal management. Natalie also served as Vice President for Diversity Strategy for Morgan Stanley from 2011 to 2013. She has a BS in Marketing from Hampton University and a MBA from New York University's Leonard N. Stern School of Business.
Lisa Hiscano
Lisa is the Executive Director of Continuing Education and Workforce Development and Interim Dean of the Elizabeth campus at Union County College in Elizabeth, New Jersey. She oversees the Industry-Business Institute, the Continuing Education department, the Center for Economic and Workforce Development and the Union County Workforce Innovation Business Center. Programs include corporate and business training, professional and personal development course offerings, and workforce development initiatives to meet the demands of local and regional employers. She holds a Doctorate Degree in Educational Leadership from Rowan University, a Master's Degree in Business Administration from Rutgers University and a Bachelor of Science Degree in Chemical Engineering from Northeastern University. Lisa has over twenty-five years of management experience working with the business community to enhance professional and workforce development programs.
Natalie Kraner, Esq.
Natalie Kraner is Pro Bono Counsel for Lowenstein Sandler LLC. As such, she is committed to strengthening partnerships with leading nonprofit and community organizations, encouraging pro bono participation within the firm, and serving the needs of local communities. In addition to helping run the pro bono program, Natalie maintains a substantive practice as a litigator, applying her extensive experience in complex and appellate litigation to achieve widespread law reform for low-income and other vulnerable persons by challenging unjust and unlawful practices. She has a particular focus on criminal and juvenile justice reform efforts. Natalie also oversees the firm's asylum docket, where she participates in precedent-setting appeals in state and federal courts and defends victims of persecution from deportation.
Natalie earned her J.D. from George Washington University Law School, and a BA from The College of New Jersey.
Kelly Raftice
Kelly Raftice is a Tax Managing Director at KPMG, LLP based in the Short Hills, NJ office. A graduate of both Rutgers University and Fairleigh Dickinson University, she is committed to the advance of women, protection of children, and the betterment of society as a whole in the great state of New Jersey. She is married with a young daughter.
Phyllis Reich
Phyllis Reich works at Elizabeth City Hall as a Project Coordinator in the Redevelopment Office. She has been with the City since 2003. Prior to this position, she worked in the Corporate world. She is involved with many different non-profit organizations, serving on the Boards of Groundwork Elizabeth and Jewish Family Services, in addition to the YWCA. She is a member of the Rotary Club of Elizabeth. Phyllis graduated Kean with a B.S. in marketing and management science. In her spare time she loves to go to craft and antique shows.
Zeida WEEKLEY
Zeida Weekley is the AVP/Manager of Northfield Bank Linden Branch. Zeida has over 30 years of sales and service experience in the banking industry. She is skilled in Business Management, People Management, Training and Development, Banking, Commercial and Mortgage Lending.
Elisa Santos, Ph.D.
Dr. Santos has been working during the last fifteen years providing statistical leadership to Marketing, R&D and Manufacturing at Infineum USA L.P. Infineum, a joint venture of ExxonMobil and Shell, is a world leader in the formulation, manufacturing and marketing of petroleum additives for lubricants and fuels. Dr. Santos has been leading a wide range of internal and external activities towards successful product launch. Before working for Infineum, she worked in telecommunications and also at the Brazilian Census Bureau (IBGE). Dr. Santos has a Ph.D. in Industrial Engineering from the University of Wisconsin – Madison. In 2008, she earned the Tribute to Woman in Industry – TWIN Award for excelling in her field and making significant contributions to industry in her professional role.
Janice C. Lilien, Chief Executive Officer – Ex Oficio
Janice C. Lilien has served as Chief Executive Officer of the YWCA Union County since 2009. She has over 30 years of experience in social services support and administration. Prior to 2009, she served for 17 years as CEO of the Girl Scout Council of Greater Essex and Hudson Counties, where her responsibilities included overall leadership of an organization serving over 9,000 girls and 2,400 volunteers in 37 communities throughout 2 counties. She has experience in the fields of mental health, developmental disabilities, youth development, and drug prevention/intervention. Ms. Lilien has a Master's Degree in Social Work, was certified by Girl Scouts USA under their CEO certification process, and has also received an Executive Education Certificate from the Wharton School.