YWCA Union County Board of Directors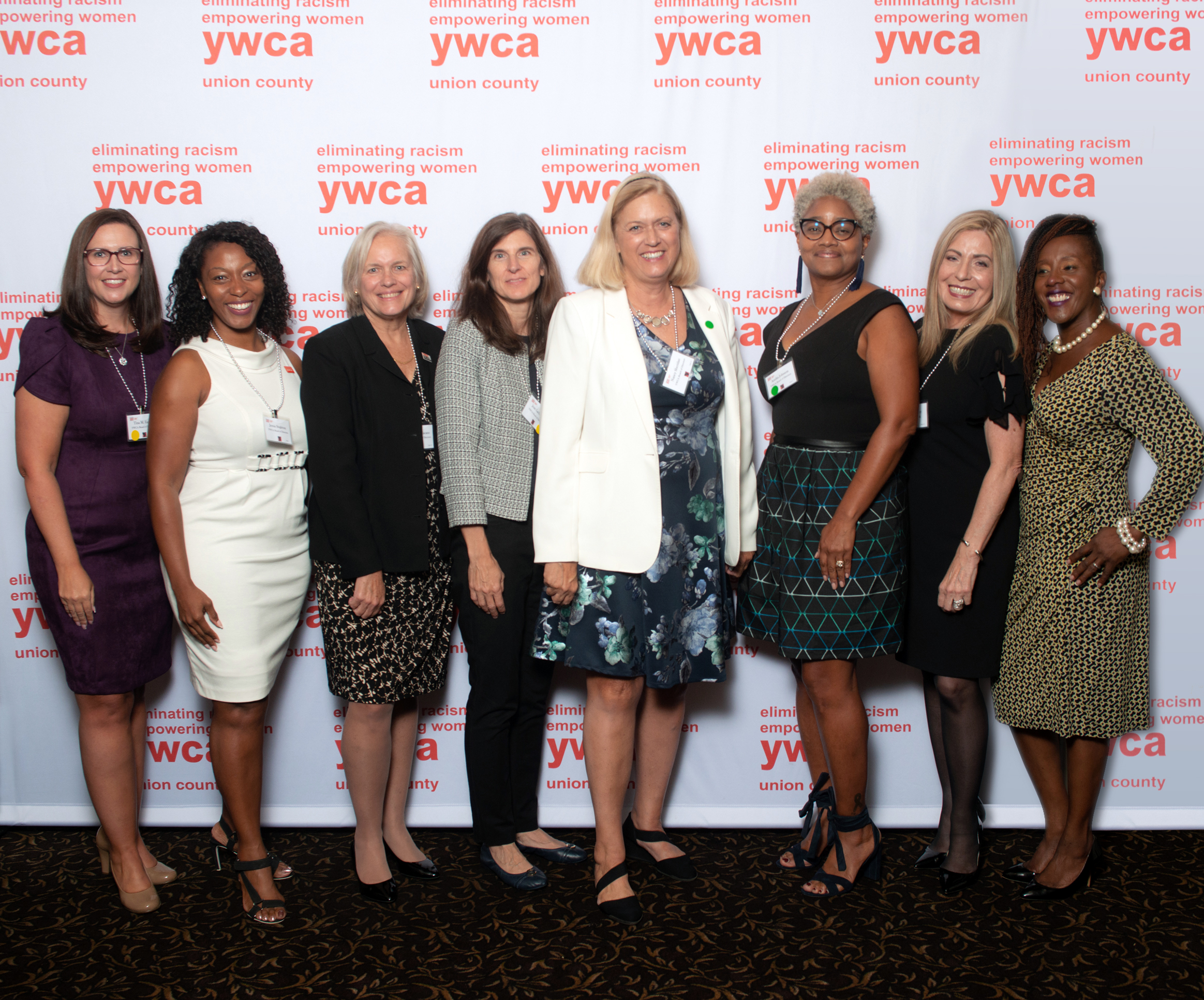 Aretha Johnson, President
Aretha Castillo Johnson is a Customer Experience & Employee Engagement Strategist with over 25 years experience at a Fortune 500, increasing brand awareness, sales, and loyalty with a proven track record of designing and implementing customer-centric programs. Aretha's mission is to develop strong women and strong girls as they uncover their inner strength, worth, and purpose in life.
Public speaking and cultivating relationships are leadership qualities that support her mission. Additionally, Aretha facilitates Racial Dialogues sessions as part of her Social Justice efforts.  This has helped her navigate and guide sensitive and tough conversations and discussions.
A faithful member of Fountain Baptist Church in Summit, NJ, Aretha serves on several ministries with specific outreach to women in prison and the youth in her church. In her leisure time, Aretha loves creating memories with her family, her husband of 20+ years, and her two daughters. Aretha's standard social media hashtag,  #knowyourworth, channels Byron Katie's quote, "Do you want to meet the love of your life? Look in the mirror."
Luz Santana, Vice President
Luz Santana has worked for the Jersey City Housing Authority since 1992.  She is responsible for developing, implementing and monitoring systematic internal and auditing systems to ensure compliance with HUD, local and federal regulations.  Ms. Santana received a Mayors Women of Action Citation Award from the City of Jersey City in 2005.
Kate Coscarelli, Secretary
Kate Coscarelli is a storyteller and strategist. She is the associate executive director of communications at the New Jersey State Bar Association where she oversees multi-media projects, oversees the organization's publications and social media platforms, attracts and coordinates attention from all forms of media, manages a team, and writes speeches and reports for executives.
She is a former journalist who belonged to a team of reporters awarded the Pulitzer Prize. As a reporter, her coverage attracted the attention of outlets from NPR to international media and she worked for the Star-Ledger, New York Times, and Home News Tribune.
She is active in her community as a coach and leader in youth sports and scouting and belongs to the board of Springfield Girls Softball.
Jean Lachowicz, Treasurer
Bio to come.
Members:
Rachel Dikovics
Bio to come.
La'Tesha Elaine Gasby
Dr. ​La'Tesha Gasby, a Roselle native, has been serving disenfranchised individuals and communities for over two decades and believes in helping others transform their thinking to change their lives. She is the President and Founder of Great Joy Counseling and Consulting Services where she and her team of therapists provide innovative, therapeutic psychotherapy & life coaching services to thousands of individuals, couples, families, and groups each year.  She is also the Executive Director of Great Joy Community Development Corporation, a NJ based nonprofit, aimed at promoting great joy, health and wellness and improved quality of life for disenfranchised people globally.
Dr. La'Tesha is a Licensed Clinical Social Worker, author, grant -writer corporate and non profit trainer, and program facilitator. She loves to teach students and train them to be change agents in their communities. She is currently a professor at the Kean University Department of Social Work and has previously taught at Master of Social Work departments at the University of New England, Rutgers University, and the Silberman School of Social Work at Hunter College.
Dr. La'Tesha's community service includes a national NASW- PACE Committee Board membership position, a Training and Curriculum Chair position at NJ Association of Black Social Workers, and a membership position of the Morris County Chapter of the Links, Inc. She previously held a Board Chair position at Rz the Flags, a Global Outreach Initiative focused on HIV/AIDS, domestic violence, human trafficking, and a Director of Business Development position at Women Operating in Opulence, a nonprofit financial literacy organization for women of color.
​
Dr. La'Tesha earned a Bachelor's degree from Syracuse University, a Master's of Public Administration degree from Metropolitan College of New York, a Master's of Social Work from Kean University, and a Ph.D in Christian Counseling and Psychology from Northwestern Seminary. She is also the recipient of an honorary Doctorate of Social Work and is pursuing her Doctorate of Social Work at Simmons University.
Shahrzad (Sherry) Heidary
Associate Professor of Chemistry, Sherry Heidary, began working at Union County College in July 2007. During the last 12 years, she has held several leadership positions at the college. She has served as the Chair of Chemistry Department, and Faculty Advisor to the Student Government Association, Phi Theta Kappa Honors Society, and American Honors Council. She is currently a commissioner to the Union County Commission on Status of Women, YWCA Union County Board member, and a Trustee on Union County College Foundation Board.
She is the first recipient of the prestigious Fiat Lux Award in 2017, and two times recipient of the Dr. Richard and Barbara Neblett Prize Award for Educational Excellence in Teaching and Learning in 2013 and 2017. In 2015, she was awarded the NISOD Excellence Award – National Institute for Staff and Organizational Development – Excellence Award in Teaching, Learning, and Leadership at Community and Technical Colleges.
She holds a BS in Polymer Engineering, and a MS in Polymer Science from Penn State University. Her interest in the STEM field was nurtured by her chemistry high school teacher. She finds STEM courses interesting, challenging and very exciting. She is an avid ballroom dancer and loves to travel.
Lisa Hiscano
Lisa is the Executive Director of Continuing Education and Workforce Development at Union College in Elizabeth, New Jersey. She oversees the Industry-Business Institute, the Continuing Education department, the Center for Economic and Workforce Development and the Union County Workforce Innovation Business Center. Programs include corporate and business training, professional and personal development course offerings, and workforce development initiatives to meet the demands of local and regional employers. She holds a Doctorate Degree in Educational Leadership from Rowan University, a Master's Degree in Business Administration from Rutgers University and a Bachelor of Science Degree in Chemical Engineering from Northeastern University. Lisa has over twenty-five years of management experience working with the business community to enhance professional and workforce development programs.
Ann Janson
Ann works at the Phillips 66 Bayway Refinery in Linden, New Jersey as the HR Manager and is a member of the Refinery Leadership Team.  She is a strategic partner to the site leaders, supporting business goal achievement and building a high performing organization.  Ann has over 25 years' experience in HR leadership, including employee & labor relations, talent development, and talent management.  Throughout her career, she has worked in multiple locations across the US and also in the middle east.  She has a passion for inclusion and diversity, and feeds this passion with her love for travel.  In her quest to visit 100 countries in her life, she has had adventures and experienced local cultures in over 60 countries, spanning all seven continents.
Laura Johnson
Bio to come.
E. Denise Peoples
Bio to come.
Carolina Rozewski
Carolina Rozewski is the Assistant Vice President, Community Development Officer at Peapack-Gladstone Bank.  She is responsible for partnering with community organizations serving Low- and Moderate-Income individuals in Majority/Minority Census Tracts within the Bank's assessment area. She implements the Bank's core principals, namely "Invest in our Communities" by serving local communities with the greatest needs, being involved in community service, and delivering Financial Literacy workshops to members of the communities the Bank serves.
Carolina has served Peapack-Gladstone Bank in various capacities since 2012, as Assistant Vice President, Compliance Officer in Enterprise Risk Management as well as having worked on the Bank's HMDA (Home Mortgage Disclosure Act) and CRA (Community Reinvestment Act) reporting, and having supported various business lines during key regulatory exams.  Prior to Carolina Compliance work, she served as a Mortgage Loan Processor in residential lending and as the Assistant Branch Manager at the Bank's Chatham location. Carolina is recognized as a Peapack-Gladstone Bank Emerging Leader.
Carolina holds an Associate's Degree in Liberal Arts/International Studies from the County College of Morris, she is a proud Colombian immigrant and is fluent in both English and Spanish.
Claudia Schiavone
Claudia Schiavone was born and raised in Caracas, Venezuela by Italian immigrant parents. She graduated high school from a private Catholic school in Venezuela, and at the age of 18 Claudia traveled to the United States where she studied psychology at Union County College.
Claudia began her banking career in 2001 as a Branch Supervisor and is presently the AVP Branch Manager of the Northfield Bank Union Branch, focused in personal and business banking.
Claudia recently joined the YWCA Finance Committee and Board, she is VP and Executive Board Member of the Union Chamber of Commerce and finished serving her second term as President of the Rotary Club of Union. Despite the obstacles of COVID during the first term of Claudia's presidency of the Rotary Club, under her guidance and leadership Union Rotary has supported local organizations such as the Union Township Food Pantry, the Salvation Army, the Emmanuel Cancer Foundation, Schmitt's Quest for the Cure, St Joseph Social Services, Horses for Forces and the Liberty Hall Museum as well as several international organizations.
Claudia has always had a passion for traveling and learning different languages and cultures.
Nida Sheikh
Bio to come.
Nancy L. Sheridan
Nancy Sheridan is an Independent Marketing and Advertising Professional. Most recently, Ms. Sheridan served as the Associate Director, Communications and Advertising at Dun & Bradstreet Information Services where she managed a staff of promotional writers responsible for developing and producing sales materials across 24 product areas. Previously, she worked for Crum & Forster Corporation and Prudential Insurance Company. Active in her community, Ms. Sheridan chairs the Clark Democratic Committee, and is a member of the Clark Planning Board and the Clark Environmental Commission. She is a graduate of Douglass College, Rutgers University.
Jemia Kinsey Singleton
Jemia Kinsey Singleton is a communications professional with more than 19 years of experience in developing and implementing communications strategies and tactics that get results. She is the president of Kinsey Communications, a communications firm that specializes in public relations, community outreach, strategic marketing, and diversity and inclusion consulting. Jemia has provided communications counsel and support for a variety of clients in the corporate and nonprofit sectors. She has also worked in fund development and is able to combine her communications skills and development experience to benefit non-profit organizations.
In addition to the YWCA Union County, Jemia serves as a board member and chair of the Diversity and Inclusion Committee for the Public Relations Society of America (NJ Chapter). She also serves on the board of the Hope Chest Scholarship Foundation and volunteers with various local non-profit organizations. Jemia, who is married and has one son, holds a bachelor of arts degree in psychology from Emory University and a certificate in Executive Philanthropy and Resource Development from the Fairleigh Dickinson Center for Excellence.
Hawaiian Thompson-Epps
Hawaiian Thompson-Epps is a Senior Investigator for the Mental Health and Advocacy Division of the Office of the Public Defender, State of New Jersey. Over 27 years, she has been the co-developer and Director of Outreach Services for SYSTAs 4 SYSTAs, Inc., a non- profit organization dedicated to motivating, educating and empowering young girls to take control of their destiny. She is active a member of Delta Sigma Theta Sorority, Inc. and serves on the International Awareness Involvement committee of the Montclair Alumnae Chapter addressing international and global issues impacting women and girls. She currently serves as the Little Scholar Chairperson for Hillside Pop Warner Association.
In addition, she has served as elected official as the former President of the Hillside Board of Education and Hillside Ward 2 Democratic District Leader, State of New Jersey. She has served as a Child Advocate with Court Appointed Special Advocate (CASA). She has been the recipient of numerous awards for her outstanding service to her community.
She is a 2018 Newark Athletic Hall of Famer and Founder of 4Athletes, life coaching business for athletes and parents providing recruiting, coaching, and mentoring through the college process. She is a faithful member of ST. Matthew AME Church and the Chair of the "Thank You Ministry" and dedicated member of the liturgical praise ministry.